Carnival Payout hit by bad weather in Carnival Week.
Clacton Carnival Association has just handed over donations totalling £7,432 to 39 local charities and organisations, monies raised from our fun-packed Carnival Week in August this year. The payout is considerably down from last year as two of the main carnival events were badly affected by really bad weather following Hurricane Bertha in America.
All the cheques were presented by the 2013 Clacton Carnival Queen, Kimberley Primmer and this year's Carnival Princesses Teegan Deeks and Mia Headford at a Presentation Evening on Monday 20th October held at the Clacton County High School.
The Clacton Branch of the RNLI received a cheque for £2,010 as they were the Main Charity to benefit from the Carnival Procession. They need funds to upgrade some items of protective clothing for the Crew to improve their safety, efficiency and comfort whilst they are at sea.
The 2 organisations who worked, once again, in partnership with the Carnival Committee were each presented with a cheque for their 50% share of the profits. The Lions Club of Clacton received £2,213 from the joint venture of producing the Clacton Carnival Newspaper, now in its 28th year, and the 1st Clacton Scouts received £559, their 50% share from their catering marquee at the Carnival Showground.
Further cheques were handed over ranging from £50 - £150 (see list)
Paul Townend, Chairman of the Carnival Association said "Carnival week was very challenging this year due to the bad weather but we are pleased we are able to give donations to so many worthy causes despite atrocious weather conditions. We are now looking for a new Venue for next year, to continue our fund-raising activities, as our Gainsford Avenue site which we have been at for the last 36 years, is earmarked for development."
"I would like to thank all the Committee for their hard work and all the Sponsors and Organisations for their continuous support of the Carnival's activities; without your help Carnival Week just would not happen and we hope it continues for many years to come."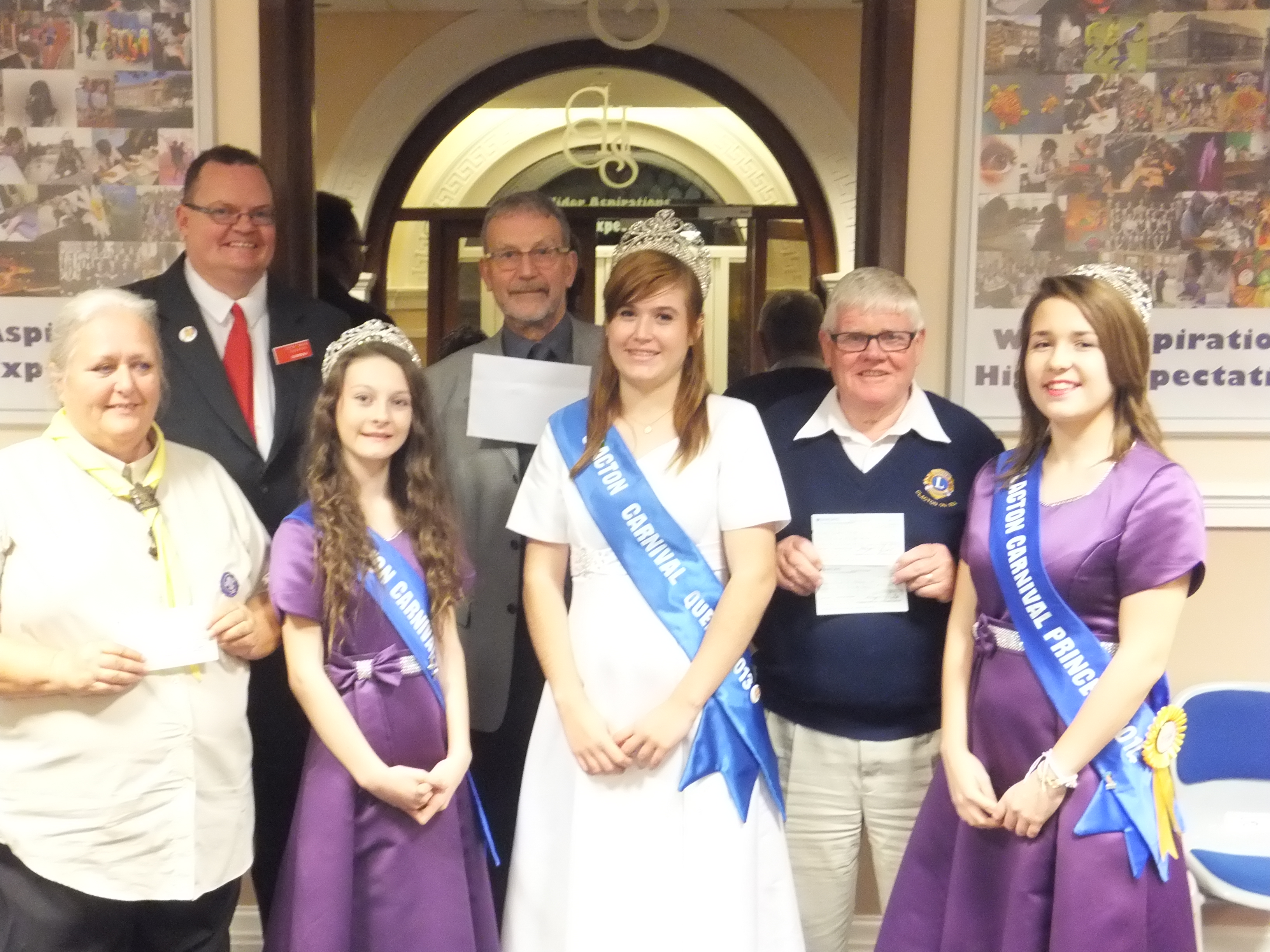 Photo(L-R) Alison Denby, 1st Clacton Scouts; Paul Townend, Chairman, Clacton Carnival; Mia Headford, 2014 Princess; Steve Cole, RNLI; Kimberley Primmer, 2013 Clacton Carnival Queen; Trevor Grimsey, Vice-President, Lions Club of Clacton; Teegan Deeks 2014 Princess.
CLACTON CARNIVAL DONATIONS 2014


Essex Police Specials £50
Essex Police Benevolent Fund £50
Tendring VIPs £50
Warwick Castle Lodge Buffalo's £50
1st Clacton Girls Brigade £50
Clacton Sea Cadets £50
Helping Hands £50
British Red Cross £50
Crime Prevention Panel £50
DDRD foundation £50
St Helena Hospice – Clacton Support Group £50
Clacton VCH Group £50
Neighbourhood Action Panel £50


1st Clacton Scouts £75
Clacton Ladies Circle £75
Tendring Alzheimer's £75
Pedalling Paramedics £75
One Dog at a Time £75
Inner Wheel of Clacton £75
Age Concern – Clacton £75
3rd Jaywick Scouts £75
Epilepsy Action £75
Lions Club of Clacton £75
Clacton Neighbourhood Watch £75
Clacton Musical Theatre Society £75
M.S. Society £75
3rd Clacton Guides £75
Clacton Jubilee Rotary Club £75
Friends of the West Cliff Theatre £75


1st Holland Scouts £100
1st Clacton Guides £100
7th Clacton Scouts £100
Clacton Hospital League of Friends £100


Weeley Bridge Breakers £125
Rotary Club of Clacton £125

12th Clacton Scouts £150

Catering: 1st Clacton Scouts £559

Carnival Newspaper: Lions Club of Clacton £2213

MAIN CHARITY: RNLI - Clacton £2010

TOTAL: £7432