Carnival Payout to Local Groups
Donations totalling £5,165 were handed over to 32 local Groups as a result of this year's Clacton Carnival week in August at a Presentation Evening at Alton Park Junior School on 18th October.
All the cheques were handed over by Carnival Queen Teegan Deeks and her Princesses Leah
Blackbourn and Jessie Hughes-Harper.
The Holland and Clacton Community First Responders received a cheque for £2,500 being the main charity for the Carnival Procession and this will be used for vital training and to purchase a defibrillator.
A cheque for £690 was given to 1st Clacton Scouts, their 50% profit made from running the Bar-B-Q at 3 of the Carnival events and £500 to Alton Park Junior School PTA for the use of their grounds this year.
Further donations were made to other groups ranging from £25 -125 (list attached).
A special Award was given to a group of students from the National Citizen Service. This Award was the "Alan Wiggins MBE Memorial Award", which was set up last year, and was given to them for their outstanding help and contribution to Carnival 2016. Together with their Award they received a cheque for £100 for their nominated charity which is the local branch of the M.S Society.
Paul Townend, Chairman of the Carnival Committee thanked all the Sponsors and Organisations for their continued support and the Committee for all their hard work. "We have had another challenging year with another change of venue and altering some of our traditional events. But we are pleased to be able to make donations to so many local groups after a difficult year. Without your help Carnival week just would not happen".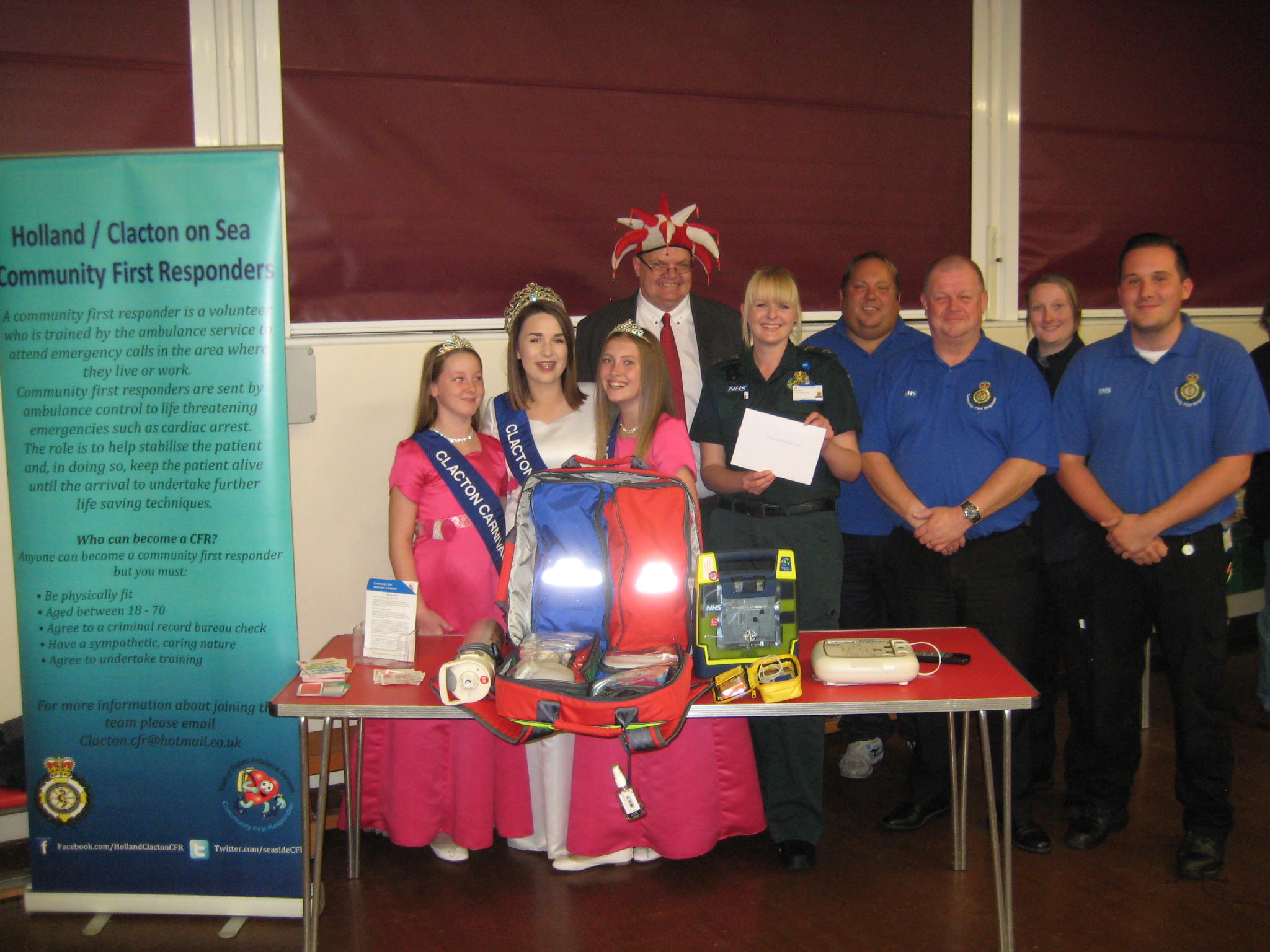 Photograph: Sarra Bolton, representing the Clacton and Holland Community First Responders holding the cheque along with other First Responders; Paul Townend, Carnival Chairman and the 2016 Carnival Queen and Princesses
CLACTON CARNIVAL DONATIONS 2016


A £25

RNLI
M.S. Society
Tendring Neighbourhood Action Panel
1st Clacton Guides
Warwick Castle Lodge Buffaloes
Age Concern – Clacton
Cadows
Clacton Jubilee Club
Clacton Queen Steam Preservation Society

£50

1st Clacton Cubs
1st Clacton Beavers
1st Clacton Scouts
One dog at a time
Lions Club of Clacton
7th Clacton Scouts
VCH Group
Tendring Alzheimers
Inner Wheel of Clacton
Friends of the West Cliff Theatre
Diabetic Group (tcvs)
St Helena Hospice Clacton
1st Holland Scouts
Pier Avenue Baptist church

£75

Clacton Neighbourhood Watch
Epilepsy Action
1st Clacton Girls Brigade

£100

Rotary Club of Clacton

£125

12th Clacton Scouts

Alton Park Junior School £500
Catering : 1st Clacton Scouts £690

MAIN CHARITY: Holland and Clacton Community First Responders £2,500

Alan Wiggins Carnival Spirit Award National Citizen Scheme – Tendring Branch £100 to M.S Society

TOTAL: £5165