2018 Clacton Carnival Queen Kimberley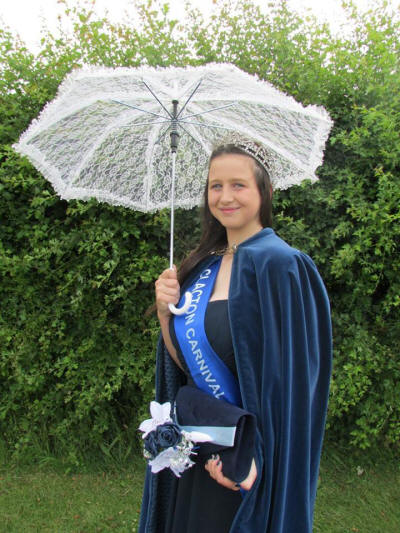 Hello everyone! I am so happy to tell you I am Carnival Queen for 2018 with my two princesses, Megan and Sophie. I go to Clacton Coastal Academy and I am in Year 10, and my wonderful princesses are both in Year 7. If I am not at school you will find me at dance. My dance group is called Alliance and we won the British Winterguard Championships last year. I am also staff for the younger children. Anyway, that's enough about me! Now I want to say a big well done to my Carnival Princesses - these girls are so lovely and I cannot wait to meet them again soon!
Kimberley xo
SELECTION NIGHT 23/3/18
Last night was amazing, it was selection night! Despite being a little nervous I was so excited for the Queens to go up. Afterwards I was having so much fun I think I didn't sit down once until the 2018 Carnival Court was announced!
When I was announced as Clacton Carnival Queen for 2018 I was so happy for myself and my new princesses! I want to say a big thank you to the judges and everyone that helped as well - I know me, Sophie and Megan all enjoyed the event so much.
Kimberley xo
PHOTOSHOOT 24/3/18
I woke up so excited still trying to take it all in from last night, but today was our photoshoot for the newspaper. I couldn't wait to meet my princesses again - even though it was starting to rain we were all still so happy. We went into the Boardwalk to discuss the carnivals and have a chat about the dress fittings! I cannot wait for our first dress fitting in the Easter holidays, when I get to meet up with my princesses and the Carnival team again!
After having a talk inside and swapping phone numbers the rain had come to an end so we went outside to take our photos! We walked to the pretty flower gardens and took some pictures there with our crowns and tiaras on for the second time ever. The pictures were so nice and I can't wait to see them in the newspaper soon. That's it for now!
Kimberley xo
FIRST DRESS FITTING 4/4/18
Today me and my princesses had our first dress fitting. When I arrived at Lacey's Bridal Boutique at 9:30, I saw Megan and Sophie again and I was so excited to get started so we went upstairs to start discussing the dress style and colours for this year. We were excited to hear that our dresses are going to be a different style this year compared to last year's, as you will see in June!
Kimberley xo
COLOURING COMPETITION LAUNCH 22/4/18
This morning I was picked up by Carol for the Carnival colouring competition launch at Rascals. I was excited to see my princesses again at our first event together. Unfortunately the turn out was poor but despite this we still had a great time meeting the Rascals characters and getting to know each other. Thank you to Rascals, who looked after us so well and gave us all a fabulous morning. I had lots of fun with my new Carnival family.
Kimberley xo
DRESS FITTING 7/6/18
Today me and my two princesses, Megan and Sophie, had another dress fitting.
I arrived at Lacey's Bridal Boutique at 4pm ready to try on my dress. They had done a lovely job and my dress now fits perfectly! After having a walk around, Jenine and Debbie arrived - we received the most beautiful flowers and bags matching our dresses containing a rain poncho and a pen. Another gift we got today was our Carnival t-shirts and jumpers - I can't wait to wear these to all the Carnival events that you will see us at.
Shortly after this, Megan arrived to try on her dress, however it still needed adjusting slightly before we can wear them at our first Carnival. Unfortunately my other princess, Sophie, couldn't make it today.
In nine days we will have our first carnival together, wearing our dresses out for the first time - I can't wait for you all to see us!
Kimberley xo
BRIGHTLINGSEA CARNIVAL 16/6/18
Today was Brightlingsea Carnival - our first event!
Carol picked us all up at 10 o'clock, ready to travel to Brightlingsea together. When we arrived at the field, we all saw our amazing float (which Debbie and Jenine have been designing for weeks, and they did a really good job!) The float is called the Sapphire Queen, named after the paddle steamer boats that used to visit Clacton, and also because, being the 65th anniversary of Clacton Carnival Association, I am the Clacton Carnival Sapphire Queen. The float is decorated around this theme, incorporating the colours of our amazing dresses.
After fixing our dresses and crowns, myself and my Princesses went to meet the other Courts and invite them to our Carnival in August, and then we got to sit down on our float before the judges came round. When the judges got to us, we spoke to them about our float and even asked the Mayor of Brightlingsea to wear his chain! Shortly afterwards, the judges came back with a rosette for me for coming third place for Queen of Queens, a second place for my two wonderful Princesses, and second place for our float.
After this, we got settled on our new float - however Debbie's car would not start! The lovely Witham Carnival Court invited us to join them on their float but when we got about halfway round, we decided that it was getting too hot as there were so many people on the float, so we got off and walked. Walking the carnival meant that we got to go up to the spectators and collect more for charities. I really enjoyed walking, however I look forward for being on our float next week!
After the procession all the Courts took a beautiful picture together, then went in to our first Queens' Tea! It was very nice - we had a buffet and were joined by all the the other Carnival Courts. I had a really good day - thank you to everyone that came to see us! Myself and my Princesses can't wait to meet more people and raise more money together at Mersea Carnival.
Kimberley xo
MERSEA CARNIVAL 23/6/18
The night before Mersea Carnival, Sophie invited us all to stay at her uncle and auntie's caravan for a girly sleepover. The sleepover was amazing and Sophie's aunt, who is a hairdresser, put our hair in lots of colourful curlers.
We woke up around 6:20am and before we knew it, we were at the hairdressers at 6:30am! Lisa (Sophie's auntie) did our hair ready for the carnival and it looked amazing - we had a quiff at the front with our hair made into a flower at the back with lots of curls as I'm sure many of you saw! Looking out of the window I saw that Carol and Hannah had arrived at the salon a bit early, but when our hair was finished and looking beautiful, we had a photo taken outside and jumped in Carol's car, ready to go all together to Mersea Carnival.
Once we arrived at the carnival we said hello to Mersea Island's Court and had a walk around to hand out the last of the invitations for our carnival before having some photos taken. The pictures that Jenine took were so nice and I can't wait to see them all later! Next, we all got on the float ready to go as judging was being done along the parade route. Our float started! Before we knew it, we were dancing on the float to the Macarena and Saturday Night.
When we completed the carnival, we were invited to an amazing Queens' tea. We all sat on blankets on the floor for a Queens' picnic of fish and chips, with sweets afterwards. Now... the bit we had all been waiting for, the judging! We came joint third place!
After this, we got to go and have a look around at all the stalls. Megan decided to buy a beautiful bow from a lady who was also from Clacton and cheered us on massively so we took a photo in front of all her bows.
Mersea Carnival was amazing - we had really good fun and we can't wait to welcome Mersea Court to Clacton Carnival. Next week we are all excited to attend Great Bentley Carnival!
Kimberley xo