CHILDREN'S POSTER COMPETITION 2014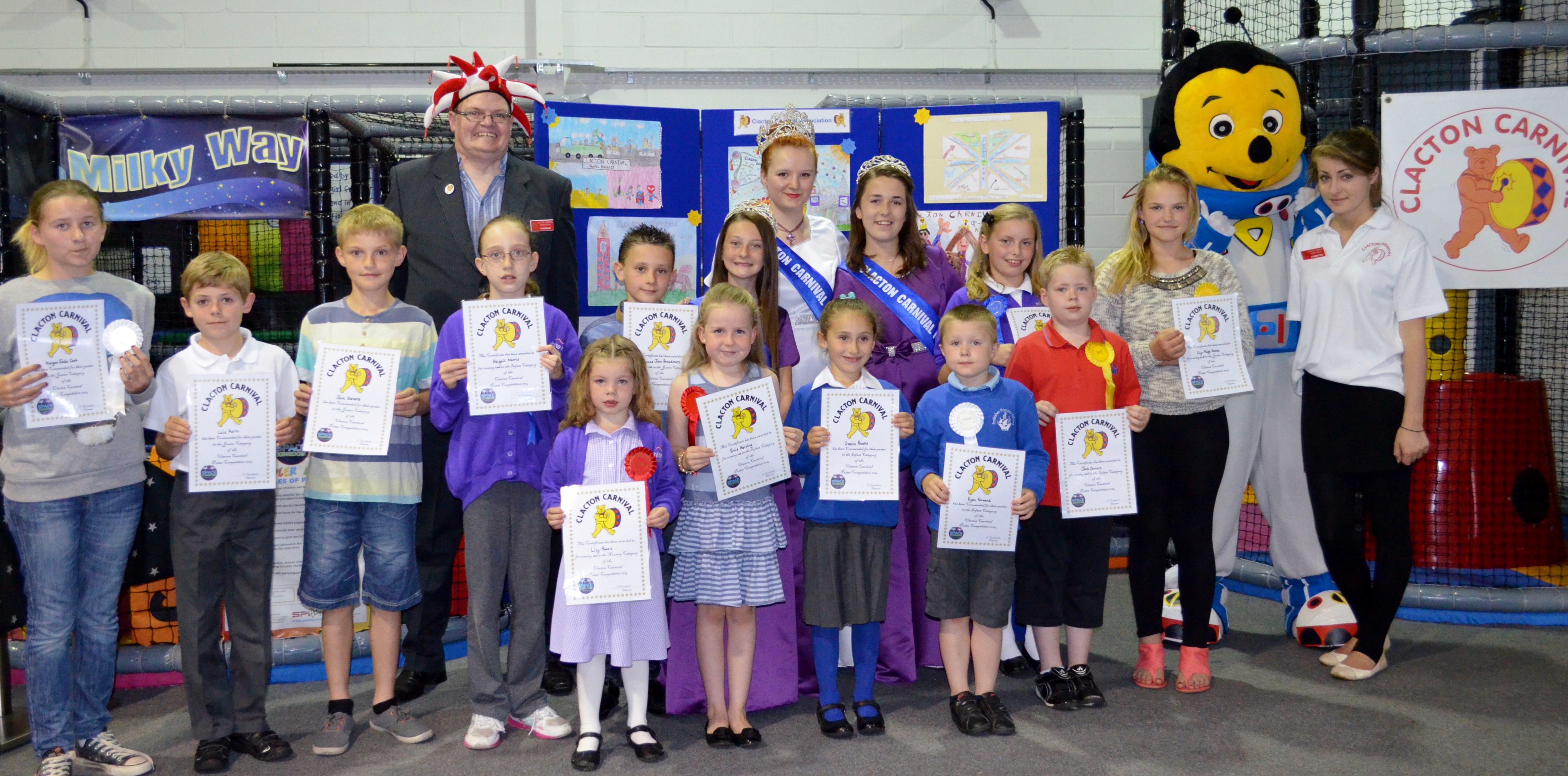 Once again, we had an excellent response to our invitation to local schools, nurseries and youth groups to take part in the Clacton Carnival Poster Competition. Six primary schools, six youth groups and one nursery took part, with a total of 237 posters being submitted. The judges were Caroline Hunt, Sarah Junczyk, John Roberts and Kelly Roberts, from Space Kingdom – who also generously sponsored the competition.
This year, the theme for the Carnival is 'Fairy Tales,' so many of the posters illustrated classics such as Little Red Riding Hood, Jack and the Beanstalk and the Three Little Pigs. Events during carnival week including the Donkey Derby and the Sandcastle Competition were also shown on many of the children's posters.
The Presentation Evening was held on the 9th June at Space Kingdom, where winners were presented with prizes, certificates and rosettes by the Carnival Queen and her Princesses. All the children were allowed to play in the Kingdom aftrerwards. The winning posters will be displayed in Clacton Library from the 14th June until the 15th July and a selection put up in Space Kingdom.
Many thanks to all those who have helped to make this year's Poster Competition a success; Clacton Library, Space Kingdom and of course the schools, nurseries and youth groups for taking part.
PRIZE WINNERS
Nursery (under 5)
1st – Lily Powell Little Stars Nursery
Infants (aged 5-8)
1st – Evie Harling Holland Park Primary School
2nd – Abigail Morris White Hall Academy
3rd – Jack Connors Holland Park Primary School
Commended – Ryan Forward, Frobisher Primary School
Gracie Brooks, Frobisher Primary School
Lilly Coe, St Osyth C of E Primary School
Juniors (aged 9-11)
1st – Lucas John Breadmore, Alton Park Junior School
2nd – Ellie-Mae Young, White Hall Academy
3rd – Lily Paige Stokes, Alton Park Junior School

Commended – Jack Stevens, Holland Park Primary School
Luis Purll, Holland Park Primary School
Morgan Jade Cook, Alton Park Junior School