CARNIVAL PAYOUT TO LOCAL GOOD CAUSES




On Monday 16th October we held a Presentation Evening at Alton Park Junior School when we gave donations totalling £7,343 to representatives from 35 local Charities and Organisations, the proceeds from their Carnival Week in August.

All the cheques were presented by Carnival Queen Louise and her Princesses Hannah and Kaycie.

The Hospital Hopper Bus, was given a cheque for £2,500, to maintain this vital service of taking patients to local Hospitals who are unable to use public transport.

The other cheques ranging from £75 to £500 were presented to the many other local
Charities and Organisations who volunteered to help with the running of Carnival, either
by marshalling at the Procession or manning stalls at the various events. The 1st
Clacton Scouts received £568 their 50% share of the Barbecue they did at 3 outdoor
events.

A special Award was given to Michael, Caretaker of Alton Park Junior School. This Award was the "Alan Wiggins MBE Memorial Award", which was set up 3 years ago, and was given to him for his outstanding help and contribution to Carnival 2017. Together with the Award he received a cheque for £100 for his nominated charity which is "Seaside Care Homes''. This award is presented annually.

Paul Townend, Carnival Chairman, thanked all the Sponsors and everyone for their support and help "without you all Clacton Carnival Week just would not happen".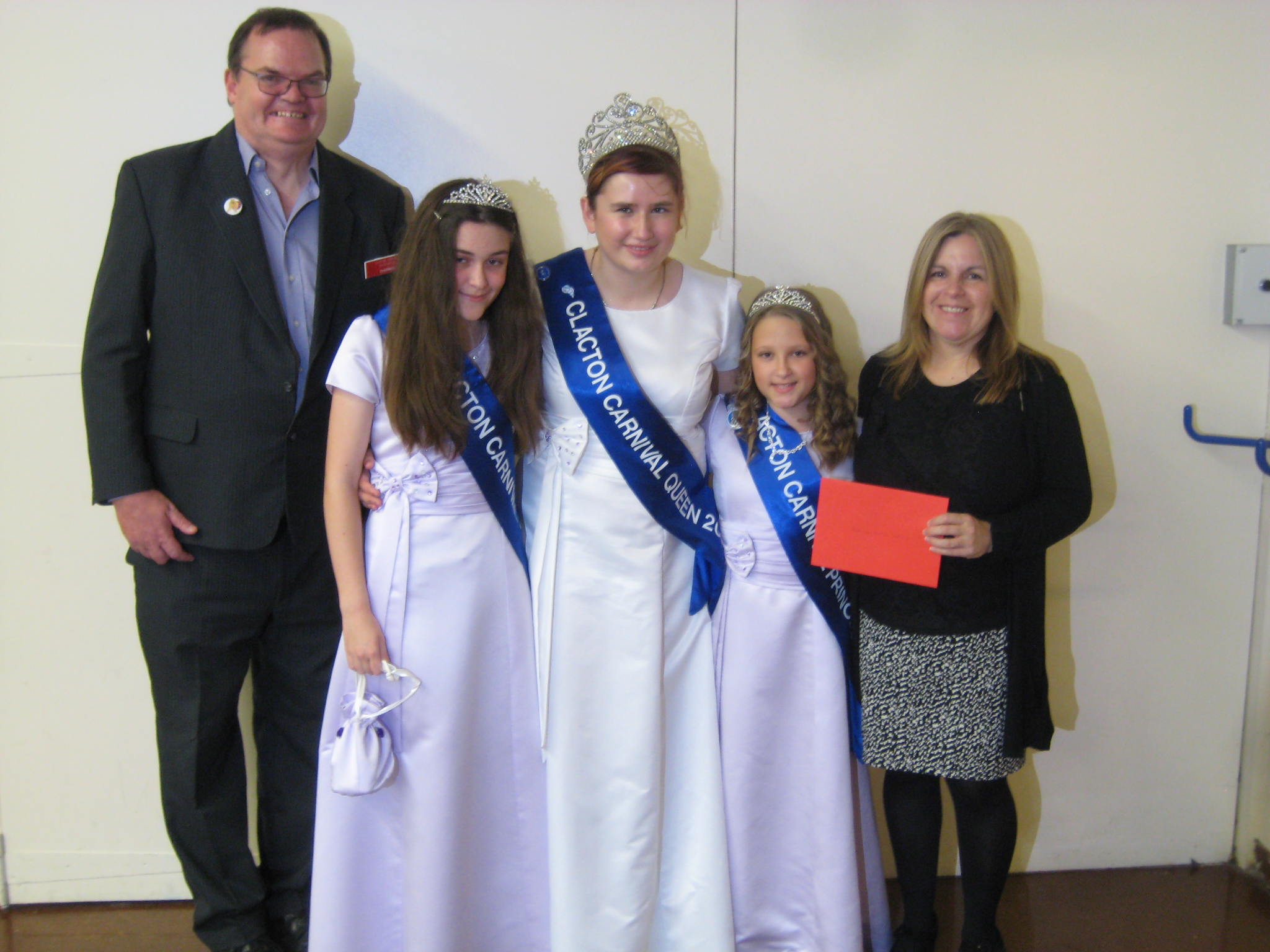 Photo shows: Paul Townend, Carnival Chairman; Carnival Queen Louise and her Princesses Hannah and Kaycie and Pauline Mann with the Hospital Hopper cheque.

CLACTON CARNIVAL DONATIONS 2017

£75 donations

RNLI
M.S. Society
1st Clacton Guides
1st Clacton & Holland Enigma Senior section unit
Warwick Castle Lodge Buffaloes
Age Concern – Clacton
Cadows
1st Clacton Girls Brigade
Brightlingsea Theatre Group
Shorefields PTA
Police Cadets (Lads need Dads}
Tendring District Scouts
Friends of the West Cliff Theatre
Martello Tower Friends
Clacton Ladies Circle
Clacton Jubilee Rotary Club
Clacton & District Local History Society

£125 donations

Brightlingsea Carnival
Crescent Cat Rescue
Lions Club of Clacton
VCH Group
Inner Wheel Club of Clacton
St Helena Hospice Clacton
1st Holland Scouts
Clacton sea cadets.

£175 donations

1st Clacton Enigma Scouts
Tendring Alzheimers
Clacton Neighbourhood Watch
Epilepsy Action
7th Clacton scouts

Rotary Club of Clacton £225

12th Clacton Scouts £300
Alton Park School £500
Catering : 1st Clacton Scouts £568

MAIN CHARITY: Hospital Hopper service £2,500

Alan Wiggins Carnival Spirit Award Michael Bright. £100



TOTAL: £7,343